Fair pricing for fairer food systems
The Open Food Network supports food enterprises - however big and small. From home growers to independent food enterprises, community gardens, community groups, local food cooperatives and farmers' markets.
All our packages include:
Customer facing features
Sell direct and/or distribute via local OFN farmers' markets and food hubs
Directory listing and map
On-line account tracking for customers
Multiple pickup/delivery methods
Platform management
Unlimited customers, products & imports
Subscriptions
Order & payment management
Pick/pack/delivery sheets
Downloadable reports (CSV – Excel file)
Support
Detailed User Guide
Support videos
Personal email support
Choose your package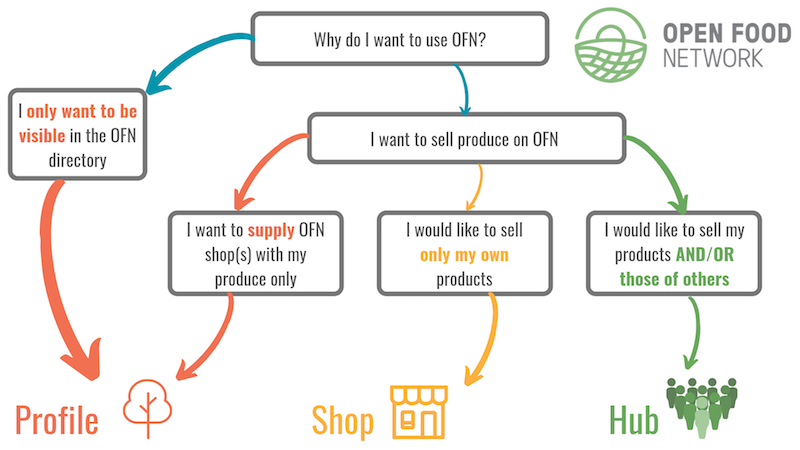 Pricing plans
Profile
FREE
Create a profile and see who else is in your local area.
With this option not only will your enterprise be visible on the OFN map and to customers searching our platform, but you will be able to manage a product catalog. Your products can be distributed and sold through other enterprises which are part of the OFN network.
As a 'Producer Profile' you will not be able to manage your own online shop front.
Shop
$15 / month + 2% sales fee
Sell products through your own shopfront and/or supply your products to local food hubs and farmers markets.
Hub & Farmers' Market
$15 / month + 2% sales fee
Sell your products as well as other producers and suppliers through your centrally managed Hub or Farmers' Market.
Check out how to Get started! or contact us for a free trial.
The charges are meant to be fair and allow everyone, who has produce available, to reach their local community in a simple manner. As a social enterprise, our charges go towards maintaining the service and cover administration, hosting charges, and our contribution to the global OFN organisation who maintain the our open source software and supports the local organisations.
To keep our overheads to a minimum we ask that you set up an Automatic Payment. Contact us for more information.
It is in everybody's interest that Open Food Network NZ remains solvent so we reserve the right to adjust these charges should this be required. These charges are not meant to discourage anyone from using this service. If you believe you have a genuine case for a reduced charge then please get in touch and we'll try and work something out.