As with any new system getting started can seem a little daunting and openfoodnetwork, while simpler than many, does take a few hours to set up.
To make the process as simple as possible there is a good user guide. We have also added some resources to help publicise the website.
Choose your package
First thing is to decide on the type of presence you want on OFN. This flowchart may help.
Note: A producer can sell directly through a shop, and be part of a hub as long as a separate login with a different email address is used. Pretty simple to do using gmail, or another provider to create a separate email address for the hub.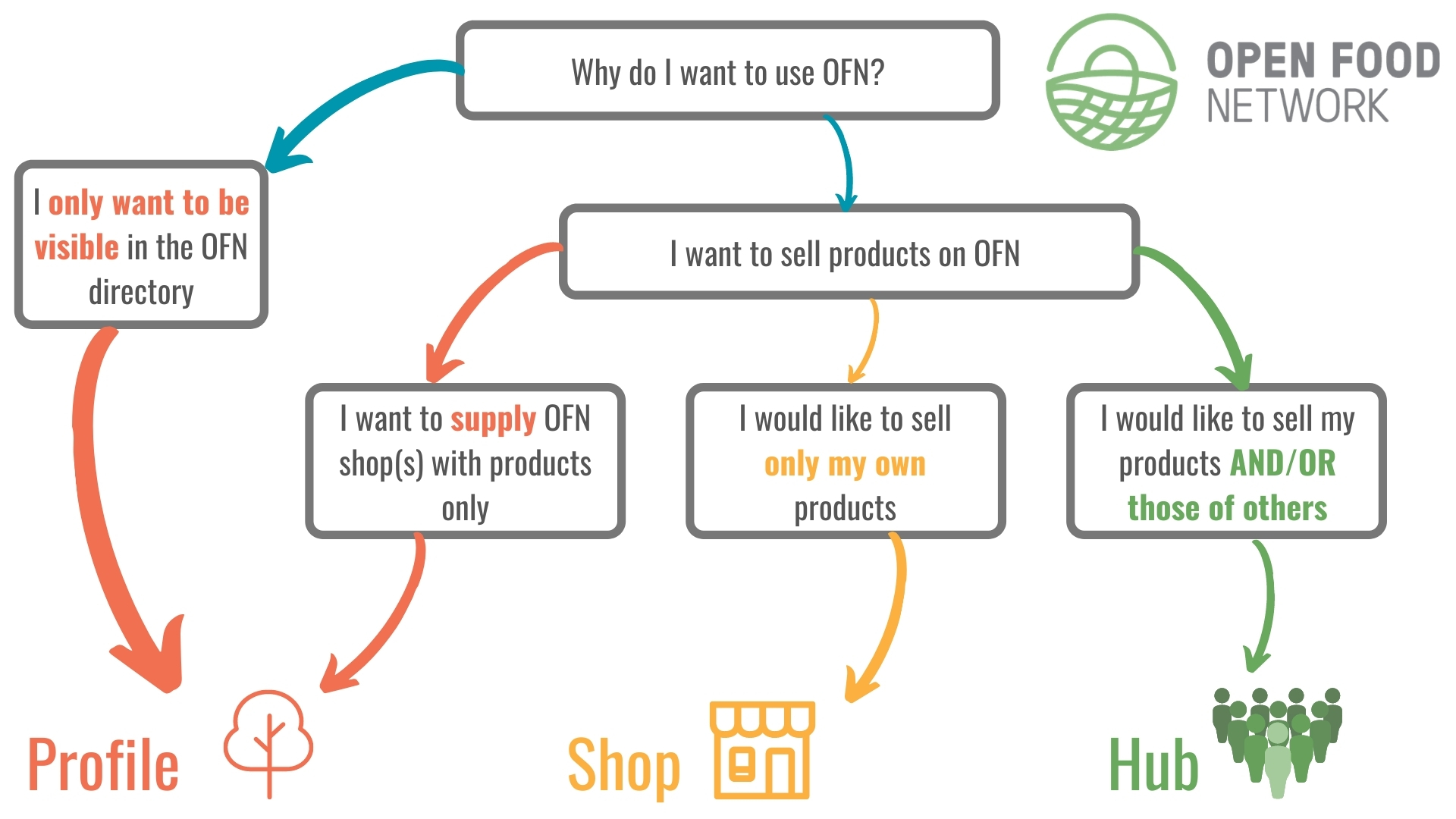 Before you register
You can register at https://openfoodnetwork.org.nz/register Its pretty straightforward, all you will need is:
Your company details, including GST number if you are GST registered
Primary contact details
Your logo image
Landscape image for your profile
'About Us' text
If you want a shop then you will also need to chose:
a shipping method e.g. delivery, pick-up, etc.
a payment method, we support cash/internet banking, Paypal and Stripe
Some products – name price, etc. and description, and if you have one, an image – see below for a quick way
Some words to display when the shop is open, and when its closed.
Entering products
You can enter your products one by one through the products function. This can be tedious if you have a largish range. For this is probably easier to complete a spreadsheet and upload them in one go. We've tried to make this easy by creating a google sheet.
Copy this to your google drive, or download to a spreadsheet program,
Make the changes to fit your situation – add in your enterprise name, product description, etc. (there are notes in the headings to help – these are taken from the user guide), see import page for a list of possible categories for products, taxes, and shipping
Export it as a csv
Upload it use the import function
Then all you need do is add your pictures. The best format for these is 400 x 400, or less.
If you are using inventory to manage stock levels then by setting the 'on hand' field to zero the product will be in your list yet wont appear to the customer.
Publicity
Getting the word out about openfoodnetwork is very important as the more people who know about it the better. We have created some flyers for you. They are in Google doc format so you can copy and edit them as you want. There are three types – one for new producers, one for customers which you can hand out at markets, and one generic one which you might like to change to suit your circumstance. Just print them and cut into three and you have some publicity material.
You can access the Google doc at https://docs.google.com/document/d/123OJwWQaFcuuKTcyE3Erku4pF5lwUmuJwC6jFexNOVA/edit?usp=sharing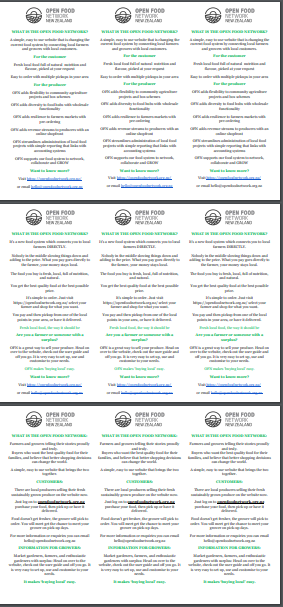 Download the logo

Just right click and "Save image As"